South Park is by far and away one of the most memorable shows on television. 4 cartoon children destroy, save, and humiliate the entire planet from their small town in Colorado. This list is for the people already familiar with South Park, and maybe even people who hate it who are reading this just to get angry about it. But South Park is far more intelligent than they will let you believe. "They" being Matt Stone and Trey Parker.
1 – SUPER TOPICAL
They aren't just topical, they are super topical. They make their episodes in less than a week, in order to keep all of their ideas fresh and up to date. A good example is "About Last night…" where the episode was produced and aired within hours of the election.
More modern wise, they are making fun of the politically correct movement. With this though, Mr. Garrison has been let go as a teacher and he is now running for president. Yeah. President. But his stance for president is to "F*** them [immigrants] till they die." His slogan is "Where my country gone?" But instead of Donald Trump's hatred of Mexicans, they are Canadians. This is where I love the episode. They give the Canadians extreme features and ridiculous cultural traditions, as to make people hate them. But if you think about it, what about Canadian immigrants, legal and illegal?
In 1960, Canadians accounted for 10% of all foreign born citizens, and almost a million today. So in essence what (I think) they were saying is that they are focused on them because of skin color and ethnicity rather than anything else. There are plenty of different races that immigrate to the United States, and conservatives focus on the one that is "ruining jobs," (they're not white), "illegal," (they have better food than us), and "ruining the economy" (they need someone to blame for something as a scapegoat in order to steer attention away from the millions of dollars pocketed by high ranking officials at the expense of the lower and middle classes.)
2 – WE ACCEPT IT
South Park has become so insane that we accept it for what it is. Mr. Garrison running for president? Yeah, sure. A school official brutally beating Cartman to a bloody pulp? Ok. A jew (Kyle) stabbing Jesus in the throat to use his teleport ability? lol. Yeah.
South Park has made the absurd normal, which allows them to take satire to a whole new level. This allows them to make fun of being smart without them being labelled as crazy. Think about it. Kyle gets ostracized for being the only one to actually make sense, and trying to vocalize it. Why be right when you can do whatever you want? Or maybe this is just to let the show keep going…
3 – UNKNOWINGLY LINEAR
This season we have had episodes continue on with recurring characters and events. PC Principal is actually here to stay, Mr. Garrison is still running for president, and Randy is still PC. Take a look back and you'll see there are insane amount of linear things happening. They constantly reference old episodes and keep on characters. Towelie, Mr. Hankey, Jimmy, Timmy, and so on and so on. They are much more in tune with older episodes than you would initially think.
My favorite example is the Jewbilee episodes. Kenny goes to Jewbilee with Kyle where he inadvertently saves the world and Moses (a sentence I never thought I would write in my career). While this is happening Cartman's mom is at a party and Cartman is left at home with Stan's sister. Stan's sister brings over her boyfriend Schuyler (who appears in later episodes over and over) and Cartman despises him. Once his mom comes home she is too wasted to know what happened and she knocks out soon after entering her home. The last episode is "2 Guys in a Hot Tub" where… Randy and Gerald um… Do stuff… in a hot tub. But this is at the party where Stan is, where he is locked in a basement with two "melvins" or nerds. This same party is where Cartman's mom is getting polluted with alcohol.
4- CHARACTERS
The characters are key. Each one has a distinct "flavor" that makes episodes spiced up each time one is involved. With Towelie you know you're getting stoner humor, Big Gay Al some form of homoerotic but oddly openminded humor that actually makes more people open to other forms of love besides heterosexuality, and so on.
But overall the main characters are why we stay. Hell, even Butters has his own episodes… and they're HILARIOUS.
5- GAMES
And because this is a gaming website… The games. The games are amazing.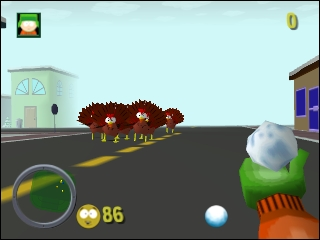 The N64 was home to the original South Park game. This had you pissing on snowballs and throwing them at anything from turkeys to police officers. Although the graphics were about as good as they get on the N64, the game was incredibly fun. Especially the multiplayer mode.
Despite all the other games in-between, the next is the Stick of Truth. The Stick of Truth is literally an episode that you can play. The game is turn based and all of the weapons, armor, and collectibles reference an episode. If they don't, they at least have some funny a** captions.
And lastly, my favorite so far, a sequel to the Stick of Truth… The Fractured, but Whole. This one though is based on Coon and Friends, so that is gonna be amazing. But most of all, it allows me to say "fractured butthole" whenever I want to by just saying it's a game title.
Yeah, I'm a loser.