Finally! Treyarch took to the Comic-Con stage this year to remove the curtain from this year's anticipated Call of Duty Zombies mode. With a full panel, Treyarch revealed what's to come, along with the star studded cast portraying your main characters. But wait, there's more! It appears the Call of Duty: Black Ops 3 Collector's Edition has also been outed, and it looks glorious!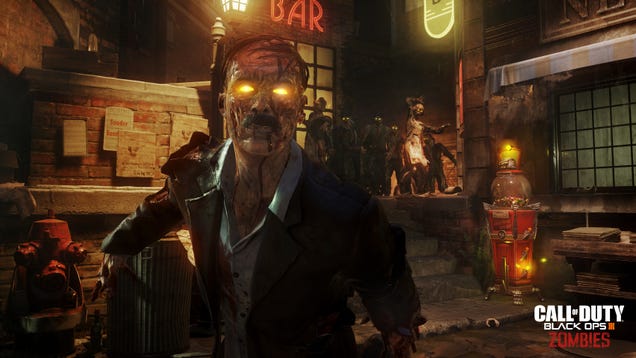 Treyarch lifted the lid on their upcoming Zombies mode for Call of Duty: Black Ops 3. The latest mode, Shadows of Evil will be set during the 1940's. The five main characters will be portrayed by a number of familiar faces. Among these faces are Jeff Goldblum, Heather Graham, Neal McDonough, Ron Perlman, and Robert Picardo. Shadows of Evil will feature an entire story and progression system similar to multiplayer. Here's what Treyarch had to say about this year's Zombies mode:
Call of Duty: Black Ops III: Zombies – Shadows of Evil drops players into a recognizable yet terrifyingly unfamiliar world, as they uncover the secrets and challenges laid out for them by a shadowy figure, who holds their fate in his hands. Set in a 1940's film-noir era, Shadows of Evil introduces four unwitting characters – The Magician, The Femme-Fatale, The Cop and The Boxer – into an unraveling experience masterminded by the mysterious Shadow Man.
Before the official reveal of the latest Zombies mode, the Call of Duty: Black Ops 3 'Juggernog Edition' officially leaked. The Collector's Edition comes with a number of items, but none more anticipated than the mini-fridge modeled after the Juggernog machine! The mini-fridge will be fully functional supporting up to twelve (12oz) cans and working lights and audio from the game.
Aside from the mini-fridge, the Collector's Edition comes with four collectible perk-a-cola coasters, the season pass, a collectible steel-book, limited edition concept art cards, "The Giant" Zombies in-game bonus map, 3 personalization packs (including weapon camo, reticles, and calling cards), and the official game DLC soundtrack. The 'Juggernog Edition' has since been confirmed and can now be pre-ordered for $200.