Capcom confirmed today that Blanka would be heading to Street Fighter V: Arcade Edition next week on Feb 20th. Blanka is the second character to be released as part of Street Fighter V's 3rd Season DLC, the first being Sakura.
Check out Blanka's new trailer below.
As a huge fan of Blanka personally, those costumes are just pure magic. I'm a sucker for costumes in general, but all three of these are particularly awesome. Look at the plushy skin!
This is how Blanka's story mode ties in according to the Capcom-Unity Blog,
"In SFV: AE, Blanka is living peacefully with his mother, and has adapted well to being introduced back into society. One day, a suspicious salesman approaches him and offers a way to make Blanka famous by mass producing a doll made in Blanka's likeness. Will it work? Find out in his character story mode!"
Capcom detailed some of his new abilities aside from his super moves by detailing his two V-Trigger options and his Critical Art.
V-Trigger I: Jungle Dynamo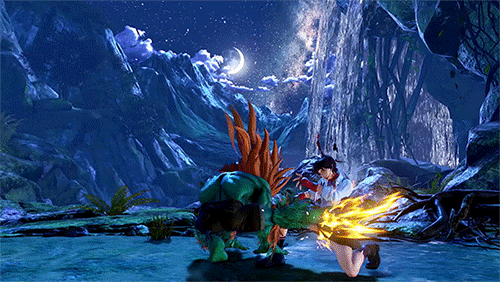 Blanka's V-Trigger I gives his special roll attacks more damage and can then be followed up by certain attacks, including his Critical Art. It also powers up his Electric Thunder and changes the animation so he steps forward while unleashing the electric current. On hit, the opponent is launched slightly in the air and can be followed up with a rolling attack.
Finally, Jungle Dynamo unlocks Ground Shave Rolling (HP+HK), which can be used as a combo extender or a way to charge in. This move was a super move in previous games but is now a special move in SFV: AE.
V-Trigger II: Lightning Beast
Lightning Beast unlocks a special move, Rolling Cannon (Direction + HP+HK), which can be performed after using Rolling Attack, Back Step Rolling, and Vertical Rolling. Rolling Cannon can be used in multiple ways, such as extending a combo for more damage or changing positions to surprise the opponent.
Critical Art: Dynamic Rolling
In this Critical Art, Blanka slams his opponent into the ground in a series of electrifying rolls that end in a move reminiscent of Lightning Cannonball from Street Fighter IV.
I gotta say, Blanka looks so fun. I feel like Street Fighter V has consistently done this so well with its' series staple characters. Keeping what made them the characters they were in the first place while adding to them in the best of ways. Increase and enhance the toolbox without breaking it or overstuffing it. It's definitely taken a long time for Capcom to reach this point, but I've never been as excited as I am now to see what Street Fighter V has for the future. When is Sagat!
Blanka will be available Feb 20th for 5.99 or 100,000 fight money. He's also available in the characters pass for season 3 that goes for 29.99. Check out the gallery below to see some more images from the Capcom-Unity Blog.