What can be said about Doom that hasn't already been said a million times? The 1993 computer game has been revered as one of the most influential video games of all-time. Doom single-handedly popularized the first person shooter, making it one of the most prominent genres in video gaming history. What made Doom such a compelling franchise, though and why should you be excited for this year's E3?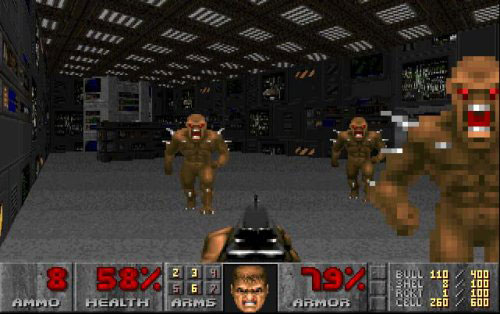 Doom released via shareware on December 10, 1993, but not before it garnered a large amount of interest. The anticipation of the game became so outrageous, during a press release in January 1993, id Software stated the game would be "the number one cause of decreased productivity in businesses around the world." Surely a joke at the time, but as it would turn out, Doom became a huge nuisance in the workplace, occupying employee's time and hindering network performance as a result of online deathmatches; talk about hardly working! The Ultimate Doom would later be released in 1995, marking the first time the game would be available in stores.
According to various estimations, Doom had been installed more times than Microsoft's Windows 95 operating system, in late 1995. Bill Gates, co-found of Microsoft even considered purchasing id Software due to the games immense popularity. The game was later ported to Windows 95 to help promote the os as a gaming platform and even included various easter eggs of the Microsoft owned operating system. If that doesn't demonstrate how popular Doom was, nothing will.
Doom offers a very unique story and presentation. You play as "Doomguy", an unnamed space marine posted on Mars for assaulting his commanding officer. While on Mars, you work security for a multi-planetary corporation conducting secret experiments with teleportation between two of Mars' moons, Phobos and Deimos. During a computer systems malfunction on Phobos, Deimos vanishes and evil demonic creatures begin pouring out of the gateway, killing everyone at the corporation. Sounds fairly standard, huh? The game has the player fighting through hordes of demonic enemies in the hopes of stopping them from attacking the Earth. The game plays in a pseudo-3D first person perspective effectively spacing out the environments. The HUD displays your ammo, Health, Armor, weapons and the ammo count of all your other guns, and even includes "Doomguy's" face gesturing various faces throughout the game.
Doom ushered in a new era for the first person shooter. The fast paced action and tight controls made it an addiction for most, but the online deathmatch would be its greatest contribution to the genre. Even today, one can find dozens of players battling it out in online deathmatch. Doom had a wide array of weapons and power ups at your disposal, but none more popular than the BFG (Big F***ing Gun). As the player, you made your way through each level (three episodes with nine levels each) destroying all the enemies in your path. To advance each stage, a player would need to fight through hordes of demonic looking enemies and find the exit, but exploring each area would grant the player even more ammo, weapons and power-ups for their arsenal. The Ultimate Doom version of the game brought with it a new, 4th episode specifically for Doom players looking for a challenge.
Well, why should you be excited for this year's E3? id Software will be demoing the latest Doom during the Bethesda presentation at this year's E3. While the game had previously been demoed at Quake-Con last year, the stage demo was for attendee's eyes only. Those who were lucky enough to see the gameplay have praised it for its direction and we will finally get to see what they're talking about come next month. Originally Doom 4, the project was effectively scrapped and relabeled Doom, a proper reboot to the franchise. Bethesda has since released a small teaser to build anticipation for the games reveal next month. Sure, Fallout 4 could potentially be revealed, but we already know Doom will be at the show and that's a reason to be excited in itself.
Doom has been received as one of the most influential video games of all-time. Doom's level design, weapons, enemies, wonderful balance of exploration and action and its multiplayer have kept it relevant in the gaming industry for over two decades now and have spawned a number of other games, including two other main to the franchise. With id Software's reboot of the series coming to this year's E3, we finally get so see if Doom can reclaim the spotlight and continue its reign of one of the greatest video games of all-time. Bethesda's conference will air on June 14th – 7pm PT / 10pm ET.
Are you excited to see Doom at this year's E3? Let us know how you feel in the comments below!