The visual novel genre is mostly popular in Japan. In the U.S. It's very unpopular and gamers these days don't appreciate or simply just don't enjoy playing them at all. As for myself, I'm a huge fan of visual style games. I love interactive storytelling and the 'choose your own story' type narrative that some of these games offer. I'm here to list my favorite titles in this under appreciated genre that I love.
The Ace Attorney Series
A visual game about being a lawyer, you say? BORING! If that's what you're thinking, then I'm here to prove you wrong. Playing as a defense attorney and solving several insane and outrageous cases, while you investigate crime scenes is the most fun you'll have in the palm of your hands. Using evidence you obtained to break through a witness' testimony is the most satisfying feeling ever. Capcom's Ace Attorney series is still going strong. Dual Destinies was their latest title in the series, having just been released last October for the Nintendo 3DS as a downloadable title only. It's the 5th main Ace Attorney game to come out in the west. I'm currently playing this visual novel now and let me tell you, it's absolutely great. You don't really have to play the past titles to jump right in, but of course the total experience would be better if you solved the cases of the past games. The first three titles are all playable on the DS, as well as IOS and WiiWare. Here's a trailer for Dual Destinies, if you want more of an idea what this series is about.
[youtube http://www.youtube.com/watch?v=_cBUlKndLWo]
Hotel Dusk: Room 215
This visual style game was released in 2007 for the DS system. Room 215 was a point-and-click "adventure" of sorts, as throughout the entirety of the game, you actually have to hold your DS sideways to play. It gave the game a book type feel to it and was surprisingly pretty comfortable and unique element at the time.
You'll play as Kyle Hyde, as you move around and interact with the environment using the touch screen solving a variety of puzzles. The story takes place at Hotel Dusk, a sort of rundown motel in California during the 70's. As a former detective looking for your old partner, you realize this hotel has many mysteries and connections to your past that will eventually lead to bigger and more intense events.
This game is pretty hard to find since it's such a niche title. Nevertheless, It was a great game to get lost in. It was well received, getting a 9/10 from GamesRadar which stated, "The game is so well-written, and the dialogue is so natural." It is also rated 78/100 on Metacritic and a 79% on Game Rankings. This game is amazing stuff. If you can find it online, I HIGHLY recommend picking this gem up.
999: Nine Hours, Nine Persons, Nine Doors
My all time favorite visual novel is 999 for the DS. I can not even begin to explain how intensely horrifying yet ridiculously amazing this game is.
Okay, where do I begin? You play as Junpei, a college student who is abducted and wakes up in a cruise liner that is apparently sinking. The whole plot has a real "Saw" feel to it. There are 8 other people also trapped on this ship and a mysterious host named Zero who tells the "players" that they are forced to play in the "Nonary Game".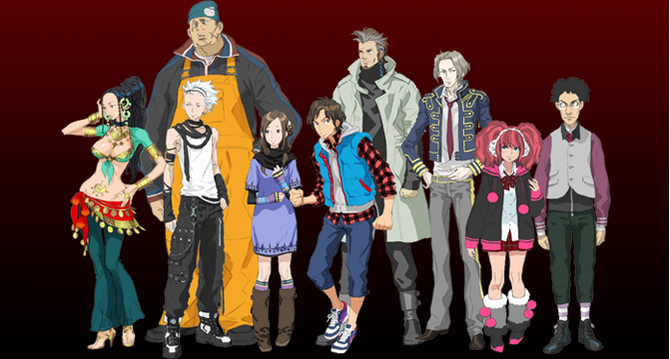 You solve tons of 'escape the room' puzzles that are actually quite difficult. The game follows a branching plot line that can result in one of six different endings. There are times where you might end up trusting people who'll end up killing you in the end and vice versa. The other characters all have different personalities and will be your friend or foe, depending on your choices. A sequel was released called Zero Escape: Virtues Last Reward for 3DS on PlayStation Vita which I also highly recommend. It continues the story but changes the gameplay slightly. In my opinion, the first is the better title, but both of them are a joy to play, and the events that unfold during the game will make your jaw drop.
With both games considered visual novels, it's no surprise that they did not sell well, but they earned high review scores all around. 999 received several near perfect scores emphasizing its well written story, remarkable presentation, and addictive gameplay. Some of the notable review scores are a 10 out of 10 from Destructoid, 4.5 out of 5 from Cheat Code Central, and 9 out of 10 from IGN and Nintendo Power.
[youtube http://www.youtube.com/watch?v=869azSXO1BI]
The developer Chunsoft was planning to release a third title but as a result of low sales, decided not to at the moment, which is very unfortunate.
It's heartbreaking that I won't be able to play one my favorite video game genres since other people aren't interested enough to buy these visual style games. I rarely get to play them since they aren't released often outside of Japan, but that's just how the game business works. I hope someday we can shift our focus away from FPS games such as Call of Duty and take the time to enjoy these critically acclaimed interactive stories that I love so much.
---
Greysun Morales, sadly signing off
Remember to follow us on Tumblr, Instagram, YouTube, Twitter and like us on Facebook @WTFGamersOnly
And you can find me on Instagram @greysun123