I didn't get my start in gaming on the Nintendo 64, but it's where gaming really made an impact on my life. So without further ado, here are my Top Five Nintendo 64 games from when I was a kid!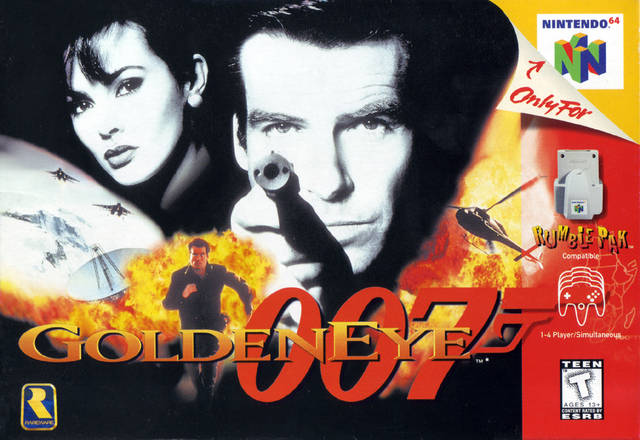 5. 007 Goldeneye. A first person shooter where you play as MI6's agent number 007 James Bond himself as you shoot, sneak, and hack your way through the popular movie's story. This game showed us how much time the developers, Rare Ltd, put into making this game. I mean, If you shot someone in the knee, in this game, they wouldn't die, rather they'd fall to the ground, clenching their knee, and rolling in pain. The multiplayer of this game allowed up to 4 player split-screen, and you could choose from different character models based off of characters in the movie and game. This is great until one of your "friends" gets the great idea to play as the character Oddjob, whose character model is half the size of a normal character's. This combined with the difficult vertical aiming the game had, meant your friend could run up on you and karate chop your kneecaps until you died before you could shoot him.
---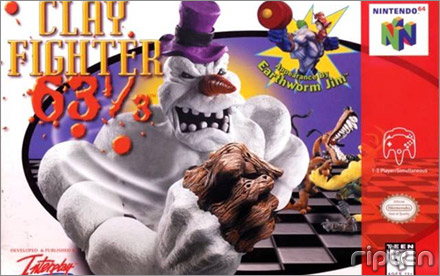 4. Clayfighters 63 1/3. Clayfighters was a joke even to the point of its name, which is obviously making fun and referencing the fact that most games released for the Nintendo 64 had "64" in the title; not this game. Clayfighters was an arcade style fighting game that starred twelve claymation creatures, one of which being Earthworm Jim. It poked fun at other fighting games as well in the sense of having special Final Hits to a match called "Claytalities" which is an obvious reference to Mortal Kombat's "Fatalities". This game was the best way for rival siblings to duke it out without getting in trouble with Mother. This game was released in 1997 and given a Teen rating, probably for Bad Mr. Frosty's potty mouth.
---
3. Donkey Kong 64. This game was great, all-around it was a fun experience for both myself and my entire family. This game's single player mode played almost exactly like the Rare Ltd's other game that also looks extremely similar. Yes, I'm speaking of Banjo Kazooie. In Donkey Kong 64, King K. Rool wants to destroy the Donkey Kong Isles with his extremely large laser. King K. Rool withholds the mindset of "If I can't have them, no one can," What a jerk, but that's okay because when K. Rool's ship crashes the laser is damaged. To buy himself some time, K. Rool kidnaps all of DK's friends and locks them up in cages. Donkey Kong is then helped by ex-K. Rool's army member, K. Lumsy, who is given his freedom in exchange. Donkey Kong then fights through each member of K. Rool's army one by one, rescuing his friends, and collecting golden bananas along the way. This game also featured a 4 player multiplayer splitscreen that allowed the players to fight each other as different Kongs, including Diddy who wielded two bananas as Akimbo-style Pistols.
---
2. Mario Party 3. No other game is accredited with more broken friendships than those of the Mario Party series. I don't know how many times I was given the choice between 1,000 gold coins and 1 star from another player, but I do know that I always chose the star. Mario Party is a 4 player Mario Game that plays like a board game such as Chutes and Ladders. The player rolls a virtual dice and moves that amount of spaces and where he lands means different things. The ultimate goal was to reach the end of the path with the most stars. Every now and then the players get put into a mini-game that keeps the game spiced up. These mini-games don't last long, but they award gold coins that can be spent at the shop to buy different items to help you in the game. Sometimes, if you're lucky, a shop will even be selling a star. However, no amount of pleading will save you from your friends decision to steal your star from you, placing them in the winner's circle.
---
1. Legend of Zelda: Ocarina of Time. This is the game of games, the Holy Grail, the best thing to ever happen to the series. The Legend of Zelda had already been a very popular game since the original game's release, where you and your magic sword delved deep into dungeons to rescue the princess Zelda. This game starts off in the Kokiri Forest, home of the Fairy Children. No, the children aren't fairies, rather they are accompanied by fairies for the rest of their live's once they reach a certain age. Your fairy, Navi, is sent by the great Deku Tree who has been tainted by an evil force. Wielded with a small dagger and a wooden shield, you set off deep into the Deku Tree to purge him of the evil growing inside, but this is only the beginning. You spend the game trying to defeat the evil Sorcerer, Ganondorf, and rescue the Princess Zelda and all of the world. You enter the temple of time with your pure heart and are frozen in time until reaching adulthood. You then learn that Ganondorf came in after you and tried to wield the Triforce, a mystical relic from the gods, for evil purposes. Without having a well-rounded being, Ganondorf broke the Triforce and it manifested in three parts to three people whom were representing each piece accordingly. Ganondorf received the Triforce of Power, your character, Link, receives the Triforce of Courage, and Princess Zelda the one of Wisdom.
These were my Top 5 Nintendo 64 games! Did I miss your favorite? Do you disagree? Let me know in the comments!