What's been going on in the world of video games you ask? Well, Civilization: Beyond Earth will be coming out with its first expansion soon. If that's not your cup of tea, Project Morpheus may be coming a lot sooner than many think according to a Japanese news paper; more could potentially be revealed at E3. Speaking of E3, Doom will be there and in the form of some actual gameplay! I know, I know you're excited, so am I. I'm also excited to here that Capcom will be in the business of remastering some of their hit titles (Onimusha, please). You can read all those stories and more on this weeks WTFGamersOnly Video Games Round-Up!
Civilization: Beyond Earth Expansion Incoming!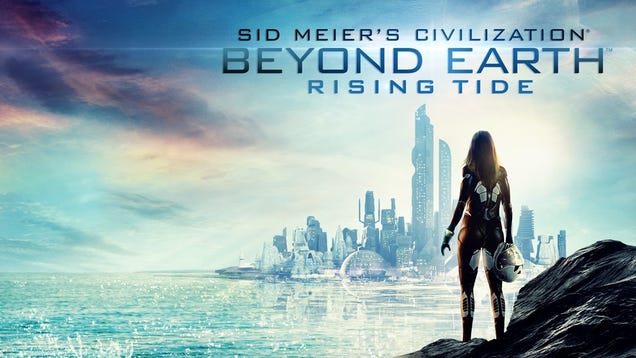 Sid Meier's Civilization: Beyond Earth will be getting its first expansion sometime this fall. Firaxis has revealed colonists will now have the ability build water colonies and establish cities anywhere in the ocean. This will mark the first time in the series the coastlines won't restrict your open-world travels. The Rising Tide expansion will be familiar and at the same time, drastically different according to Firaxis. The expansion will be releasing on PC, Mac and Linux this fall for $30.
---
Project Morpheus Launch Frame Possibly Revealed!

Following a new report, it appears Sony will aim to release their virtual reality headset (Project Morpheus) before June of next year. The Japanese news paper that leaked this story doesn't specify whether the release will be worldwide, or just Japan. Shuhei Yoshida, President of Sony Worldwide Studios has stated Project Morpheus games have already been in production and could potentially be revealed at this year's E3. Sony's conference takes place on June 15th, so keep an eye out for any Project Morpheus release news.
---
New Elder Scrolls Online Trailer Focuses On Multiplayer!
The above trailer showcases what it will be like to play The Elder Scrolls Online with friends. There are caves to explore and raid, there's a PvP arena where any of the factions can face off against one and other. There's even an open-world area known as the zone of Craghorn where players can complete challenges. The pay-to-play MMO will be releasing on June 9th for Xbox One and PS4 and can be pre-ordered right now.
---
Bison Revealed For Street Fighter V!

Bison has been revealed via the above trailer for the PS exclusive, Street Fighter V. The full story can be read here courtesy of our very Jason Carmona.
---
Capcom Remastering Hit Games A "Priority!"

Capcom has made it clear they will be focusing on remastering some of their hit titles for new-gen consoles. There's no word yet on what games Capcom will be giving the remaster treatment to, but as a huge fan, I'd have a great number of suggestions. Following the success of the Resident Evil remaster and the release of Devil May Cry 4: Special Edition, Capcom should focus on their older titles, Onimusha for example. The Onimusha franchise died with the PS2, and this would be the opportune time to bring it back. We will just have to wait and see what Capcom decides to bring back from the dead.
---
2K Games Working On Unannounced Triple-A Title!
Take-Two Interactive announced via their conference call that 2K Games has been working on a brand new IP. Take-Two also spoke a bit about having a successful coming year thanks to all of their studios.
"Throughout the coming year, we will continue to execute our proven strategy of launching a select array of the highest-quality titles, led by new annual releases of NBA 2K and WWE 2K; Battleborn, a groundbreaking new intellectual property from Gearbox Software,"
---
DOOM Teaser Confirms E3 Reveal!

The above teaser was just a snippet of the full gameplay reveal Bethesda has planned for this year's E3 conference. Doom gameplay has been previously shown off, but only to those who went to Quake-Con last year. This will be Bethesda's first ever E3 conference and it's aiming to be a superb one for video games. The conference will take place June 14th – 7pm PT / 10pm ET.
---
Tech Sec.
A quick sec of new tech.
As a quick review in technology, this week has been interesting. Here's a quick bullet list of some of the interesting things happening in the world of technology.
Apple is reportedly planning to refresh iOS9, and OS X 10.1 with the new Apple watch font, among other things
Spotify has finally introduced Video clips, Podcasts, and Activity-Based Playlists.
Microsoft is reportedly in the making of creating a "light-weight" mobile email app, and changing the way we see and use email (no subject lines, salutations or signatures)
Apple could be working on including a smart home app in iOS 9
Microsoft released their Xbox One TV Tuner, which you can check out our coverage of HERE
Google Launched special cases for their Android phones featuring Skrillex, and there's a limited run of them. Compatible with Nexus 5 & 6, Samsung Galaxy S5, S6, and Note 4, it includes a live wallpaper to match.
There's your quick tech update in a sec.
---
This Tuesday Ultra Street Fighter IV makes its way to the PSN marking its exclusive digital release. Join the ultimate fighter on May 26th.
Quick reminders from the PlayStation Blog
Ultra SFIV on PS4 will be running at 1080p resolution and 60 frames per second for all your fighting glory.
The PS4 version of USFIV will also include all DLC launched up to this point, including the most recent Vacation and Wild costume packs.
A few of you hardcore Street Fighters out there said that there was minor input lag in the controls of Ultra Street Fighter IV for PS3. Well, don't worry: We've eliminated it to make the PS4 edition the ultimate version on any platform!
The price is $24.99.
---
This Week's Deals On Video Games!
Deals With Gold
Xbox One
Xbox 360
*Prices from MajorNelson.com